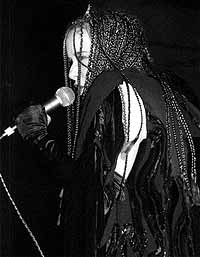 Photo By: Bernard Baur
Ann Boleyn: Effective, hard-driving, dominating metal rock.
Ann Boleyn
Paladino's
Tarzana
Contact: Starr Communications, 818-761-9475; or Jim Paul, 818-783-0819
The Players: Ann Boleyn, vocals; Mike "The Tapping Ninja" Guerrero, guitar; Chris Kessler, guitar; Eric Becica, bass; Vince Rage, drums.
Material: This double-bass, two-fisted, hard rockin' metal mama is a throwback to the days when rock was gritty and more than a little dangerous. Playing a form of new metal edged with hard rock, Boleyn's songs are the perfect vehicle for her phenomenal voice. This former lead singer of Hellion twists the heavy metal genre into a new style that borders on Stevie Nicks gone bad. Like some she-devil, she mesmerizes and bewitches you into her private hell.
Musicianship: The hard driving outfit of Boleyn's band plays really loud and awfully tight. Drummer Vince Rage is outrageous, Kessler is a smooth guitar virtuoso and "The Tapping Ninja" Guerrero is a speed demon who, although impressive, dates the material. His leads tend to pull the songs into the past rather than propel them into the future. On the other hand, Boleyn is a force of nature with powerful vocals that oscillate nerve endings and shatter pretenses. She has a voice that out-screams Pat Benatar and could be classified as a power chord in and of itself.
Performance: With her tough sexuality and wild demeanor, Boleyn is a seductress of the first degree. Her long braided locks fly as she pumps the air with her fist and raises her leg onto a monitor, drawing the crowd in. Her intensity is electrified as she leans over and beckons them closer.
Summary: This is rock the way it used to be. Not so much in sound, but rather in attitude and energy. Metal has gone through many changes over the years and it's experiencing another one with Ann Boleyn. In a male-dominated genre, she more than holds her own –– she whips it into shape. Any headbanger who thinks chick rock is soft should check this act out –– they're as hard as they get.
––Bernard Baur
---